We are excited to share that golf clubs are embracing and applying technology to help keep their members safe with contactless menus for their restaurant and bars.
Well done to Stellenbosch Golf Club and De Zalze Golf Club for rolling out Contactless menus with our Linkify product.
"Now our award-winning wine list is on every phone!
We've introduced CONTACTLESS MENUS throughout the club.
All you need to do is simply use your smartphone's camera (or QR scanner application) and scan the QR code on the table.
This will give you access to the…
🍽 Clubhouse Menu
🍷 Wine list
You can even book your next round while ordering your meal!"
De Zalze Golf Club
Scan the QR code with your smart phone or download the free QR scanner app. View the menu, book your golf round (for members and visitors) and view the newsletter.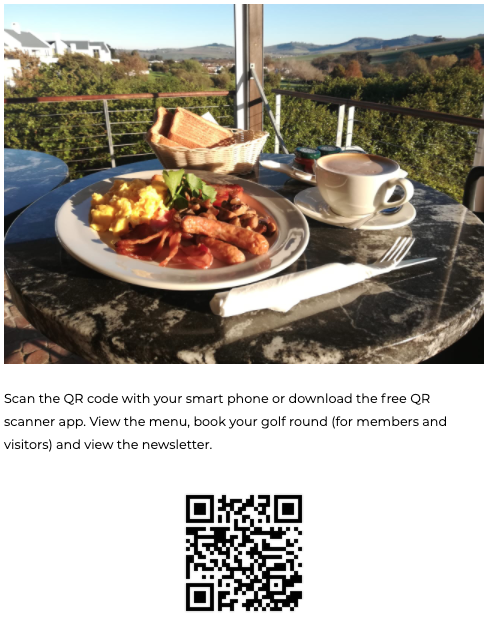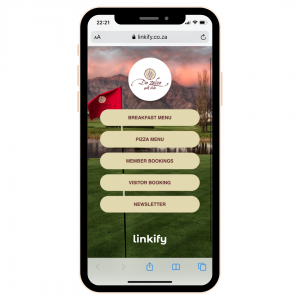 WHAT IS THE COST?
Only R149 per month / subscription

HOW QUICK CAN I GET MY LINKIFY PAGE?
Within 1 to 2 hours.
DO I NEED TO PROVIDE MY MENU IN PDF FORMAT?
We've made it easy for you. Please provide your menu in jpeg, png or pdf format.
WHAT IF MY MENU CHANGES?
No problem, we can change the menu and no need to change the QR code.
CAN I CANCEL MY LINKIFY SUBSCRIPTION?
Yes, you can cancel your subscription at any time.
Get your Contactless MENU today!